Are you the right person to join a start-up?
When I completed university, I had three job offers. The first was from a technology consulting firm with thousands of staff worldwide. The second was from British Gas – then a nationalised company with job security. And, the third was from a tech start-up based at Redwood Shores in San Francisco. This company had around 70 people worldwide, and a handful of people in Europe, and a vision to change the technology world – a much riskier bet. I accepted the third offer.
Over the past three decades, I've worked for one of the top banks on Wall Street, another start-up, founded a third start-up. I've invested in more than a dozen start-ups in a personal capacity and nearly a hundred start-ups in a professional capacity. I've learned a great deal not just about how to found a company – pitching ideas, raising money, finding initial customers, hiring teams and delivering results – but also about what it takes to join a potentially successful start-up and help it grow into a global company.
Deciding to join a start-up is never easy. Compare to established companies, start-ups are tricky to figure out. For example, what are the backgrounds and qualities of the founders? What needs to be done? What is the best joining role? How can you tell whether a start-up has the potential for success and it is the right fit for you?
Since no start-ups are the same, you need to be careful. Start-ups are very attractive for the opportunity, but ask yourself if you'll thrive in an unstructured, haphazard and fast-paced company? How are you going to evaluate whether the company's work environment is right for you? What factors should you consider, and which questions should you ask yourself? Remember, when you're excited about the opportunity, you are likely to overestimate its appeal and underestimate its risk. It is vital you weigh the excitement you feel about the start-up job against the effort, time, money and energy it'll consume.
Put simply, joining a start-up is a huge risk, and therefore it is vital for you to understand how start-ups operate before making the leap. Most have no clear hierarchies or paths to advancement. But from their embryonic stages through more mature ones, they need an exceptional team to create and effectively run functions such as sales, customer support, consulting, marketing, product development, finance and operations. And one can gain a vast level of experience in multiple functional areas in a short time. You can also achieve immense personal and professional rewards working for these young start-ups, which would take decades in established companies. For example, what I learnt in the first five years at Oracle, I saw many people in Citigroup struggling to lean the same in twenty years! To work in a start-up, you will need to do five things, you will not have learned in school or in university or in your previous jobs:-
· Manage ambiguity and uncertainty;
· Solving problems regularly and at short notice;
· Creating ways of doing things and getting them done;
· Think like an owner always asking, "What can I personally do to make this place even more awesome?"
· Work hard and long hours.
If you believe that you're right for a start-up, your next step should be to choose the right start-up. And, this is how you should approach it.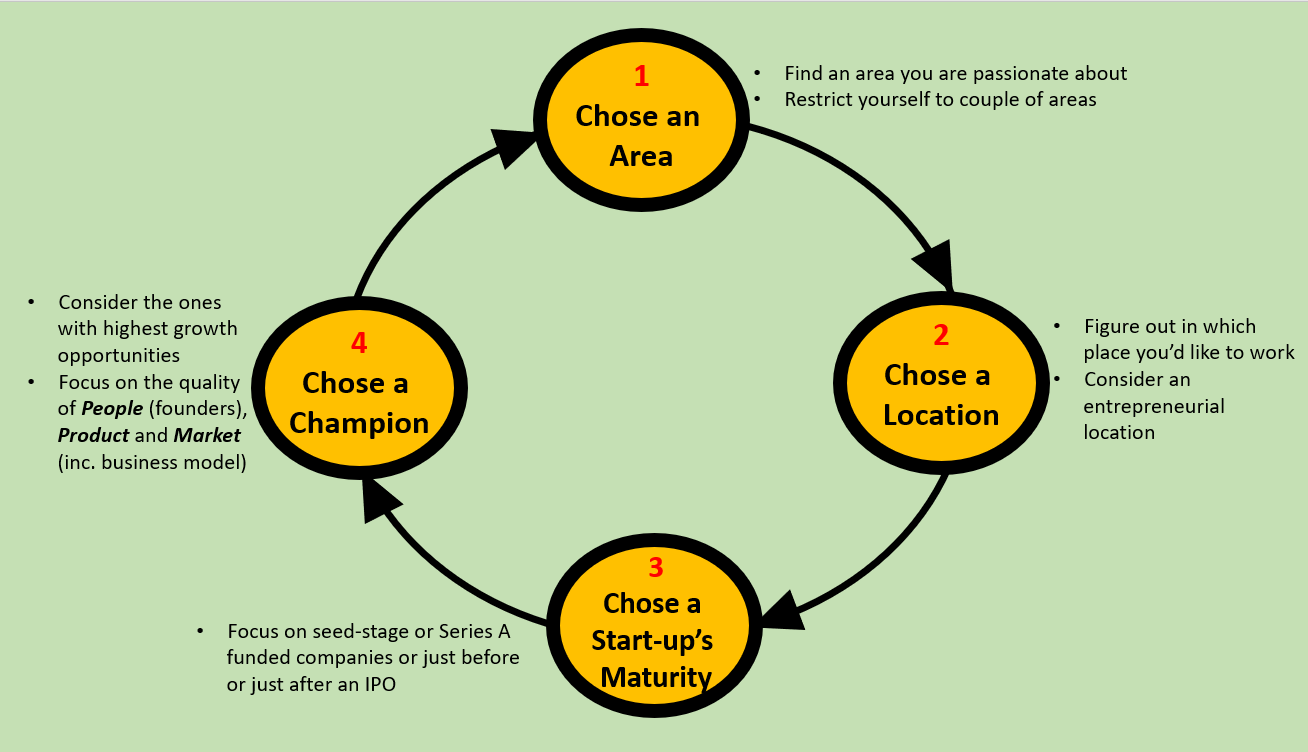 How do you pick the right start-up?
First, focus on the specific opportunity you're interested in, and do the necessary research, due diligence and soul-searching to gauge if a particular opportunity is right for you. Consider joining a start-up the same way you would consider investing your hard-earned money in a financial scheme. Ask yourself what you find attractive joining a start-up? Is this to learn fast and improve your opportunity to move up the managerial ladder? Or is it to improve your problem-solving skills? Or is it to help bring innovative solutions to the market to solve everyday problems? Also, ask yourself whether you're a cultural fit for the company. Do a founders' audit, and discover their motivations for starting the business. Since you'll be spending a lot of time with these people, you must like them as you'll be working with them a lot!
Once you short-listed a handful of start-ups, decide how to approach their founders. If the start-up you short-listed has less than 50 people, and they've more than 3 stages in their hiring process, ignore them. Successful start-ups are agile, fast and not bureaucratic. Their founders will always find time to meet top talent no matter how busy they are. Founders of all successful start-ups are exceptionally good at spotting talent – they don't need umpteen test results from recruiters to figure out who are the right people to join their ventures. Also, start-ups which are destined to be successful treat every potential employee they meet with respect. Even when they reject someone, they do it with humility and authenticity, because they know the person they are rejecting could be a customer in the future.
Remember many start-ups are not built to last – they're grown to a certain level, such as £5m-£10m revenue, and the founders sell out. They make some money and move on. If you're comfortable working in a start-up that's being built to be sold in 3-5 years' time then fine. Otherwise, drop them from your selection process.
How do you prepare for interviews?
Don't follow the traditional methods advocated by self-promoted hiring experts. This is because, founders of highly successful start-ups don't follow old, traditional and broken methods of hiring. They dislike bureaucratic processes that recruiters and HR people practice and promote. They dispense with the conventional interview process and create their own. They don't ask those mundane questions; instead, they pose unusual or quirky questions and use observation as a tool. Before you interview, find out as much as you can about the culture of the company and what drives the founders. This information will help you establish the values of the company. If the start-up has a customer base then find out from customers what they think of the company and its people. Ask them if they would continue to buy from the company, and if not, what they found disturbing and/or irritating about the company.
When you're interviewing, there is typically one primary goal: impress the interviewer (often the founder) enough to get a job offer. Often, we think that we need to be agreeable to succeed, which can lead to a lot of nodding on both sides – even if you don't necessarily believe in what the interviewer is saying. This type of well-intended dishonesty may help you get the job, but it can lead to misconceptions that grow and fester once you're in the role. Of course, disagreeing with a founder isn't easy. There is an imbalance of power, and your risk giving the impression that you'll be challenging to work with. However, you can navigate the potential downsides by doing the following before, during and after the conversation.
· Do your homework;
· Give yourself space to think;
· Speak openly and candidly;
· Trust your instincts.
To be successful in a start-up, you should express your evidence-based and honest opinions during an interview, presenting yourself as you are, not someone you think the interviewer wants you to be. In fact, the most engaging interviews have some form of healthy disagreement that demonstrates your ability to be curious and collaborative. Remember that if expressing different opinions wasn't welcomed by the founder during the interview, it probably won't be encouraged once you are part of the start-up.
How do you figure out the winning start-ups from the failing ones?
Winning start-ups are vibrant, lively and full of people with "can do" attitude. They've inclusive teams. Their people are passionate, self-driven and with a winning mentality. On the other hand, start-ups that are either life-style outfits or not going to go anywhere are those where founders are busy promoting themselves, secretive about the funding and finances, attend meaningless award-winning events and brand themselves as a disrupter. For example, recently I came across a founder of a London-based start-up with half a dozen people who posted messages on LinkedIn comparing herself to Bill Gates and pointing out their similarities!
Your take away
Choosing a job in a start-up can be challenging, especially in an uncertain economy and a polarised political climate. Should you aim for a safe job, say at a big-tech firm, or a role which is more risky with greater upside, perhaps with a promising start-up? It's paramount to weigh the risks versus rewards. Working at a big-tech firm may feel more secure, but you often have to navigate bureaucracy and politics. It can also be harder to gain recognition, be entrepreneurial and move forward within the company. Going to a start-up offers upsides if it's the next Oracle, Microsoft, Salesforce, Facebook, Netflix or Google, but remember most start-ups are not, and often fail. Still, in a smaller firm you are likely to be less boxed into a specific role, have more responsibility and learn new skills. What's right for you depends on your tolerance for risk, what you want to learn and where you want to go with your career. And remember, the odds are this next start-up job won't be your last.
Do:
Consider your motivations for wanting to join a start-up, and reflect on what makes you a desirable candidate.
Assess the quality of founders and other people in the start-up – remember that it's the people who bring prizes and not the product or the market.
Spend a few days on-site at the start-up, if possible, to get a realistic preview of what your work life would look and feel like.
Talk to customers and find out how they see the start-up you're considering joining.
Be rational and insightful when it comes to evaluating the financial opportunity – both the possible upside and potential risk.
Don't:
Jump to an instant decision – take time to learn whether a particular opportunity is a good fit for you.
Consider joining a start-up where the founder is a known self-promoter.
Assume you'll become fabulously wealthy from your stock options and/or equity participation; be realistic about the start-up's chances of hitting it big.
Get discouraged. Finding the right start-up job requires investing a great deal of time in background research.