What Do Sales Want From Customer Success?
Sales and marketing alignment is a hot topic in B2B. But what about the alignment between sales and customer success teams?
After all, sales convert prospects into customers and then pass them to CS. And customers only stay customers due to the effectiveness of the customer success team. The two departments share a critical relationship that impacts a company's reputation.
So what do sales want from customer success? And what can business leaders do to ensure there's alignment?
Keep reading to find out!
What do sales need from customer success?
1 – A positive customer experience
The central role of the customer success team is to support new and existing customers to implement their product(s) after purchase.
Ryan Reisert, former Brand Ambassador at Cognism, said:
"As a salesperson, you want there to be someone you trust available to help your prospect when you hand them over. Someone who can take care of them expertly, delivering what you promised."
"Onboarding needs to be tight. You want enablement to be tight – especially if it's a more complex product. Enablement is more important than anything else."
What's the best way for customers to have a positive experience?
They must be taught how to get the best out of the product for their specific objectives. And they need guidance and support on how to use the product.
This, of course, is in the best interests of the sales team and the wider company. For example:
Sales can use positive customer testimonials as social proof when outreaching to new customers.
Happy customers are more likely to give referrals and word-of-mouth recommendations.
It can result in expanded deal sizes, renewed licences and increased LTV.
In other words, it pays to help your customers succeed.
This is especially important during a recession. It's much easier for revenue to come from expanded/renewed deals from existing customers instead of trying to win new business.
Of course, sales want CS to deliver on their promises to prospects during outreach. But this does come with a caveat.
Ryan explained:
"Sales needs to avoid over-selling and over-promising. Don't say we can do things that we can't do just to get deals done – because you set up customer success to fail."
B2B sales and customer success teams must collaborate when describing a product's benefits. If sales over-promise, then the customer will be left disappointed when CS takes over.
2 – Effective conflict handling
During onboarding, conflicts will sometimes arise.
Customers might be expecting game-changing features that, in reality, aren't there. Or they might face results that contradict what was promised during the sales cycle.
The technology might not work or integrate with their tech stack as seamlessly as hoped.
Or maybe expectations just don't match the reality of using the product.
Ryan said that in situations like these, sales want customer success to resolve problems quickly and fairly.
He said:
"I want a partner who is willing to bring me into the conversation when things like this happen. If there's a 'he said, she said' type of situation where a customer feels the salesperson has misrepresented something."
"We need to be clear about what's possible in terms of our core deliverables. And just because a customer tells you that a salesperson said, 'we can deliver x, y and z', don't just do it. Talk to us first."
Ryan's point here is that miscommunication happens sometimes. Whether a salesperson miscommunicates about features or a customer misunderstands the contracts.
It's much easier to speak to sales to understand what might have happened so that:
You can come to a speedy resolution.
To highlight mistakes and learn from them, to ensure similar situations don't happen again.
Improving teamwork and alignment between sales and customer success. Instead of driving a wedge between the two departments.
Ryan told us:
"Sometimes customer demands can be out of whack based on what they've been sold. And customer success has the tricky job of balancing keeping that customer happy and retaining revenue."

"But in some cases, certain clients will be too much trouble to work with, and you need to know when it's best to part ways."
Customer success might be responsible for providing a positive experience for customers. But that doesn't mean they should be held hostage by unrealistic promises made by sales. Or impossible demands from customers.
Ryan added:
"And if it turns out that the salesperson has correctly represented the product. Then let's deliver that product properly, so we're not dropping the ball."
"We want to work with our clients to solve their problems in a way that keeps them happy. But in a way that's also realistic for the business to deliver on."
3 – Deep product knowledge
It might seem obvious, but it's important to mention. Especially in the context of SaaS products as they develop and advance.
Customer success must have an intimate understanding of how the product works and how it helps customers.
Ryan said:
"I want the customer success team to share how customers can get the best of their product rather than be a basic tech support team."
"I want customers to go to customer success when they want help to scale, optimise or be more efficient. Not just when they have a problem."
"Otherwise, they associate customer success with every time they have an issue. Instead of a proactive team that adds value."
This means that CS needs to be well-connected to the product team. They must be aware of any platform changes and keep up to date with any new training.
Customer success also needs to be in regular contact with customers. It's vital they notify them of any changes and offer ongoing training and support.
Ryan added:
"The majority of people buying SaaS products won't live and breathe SaaS. They'll buy it for the specific feature they want and then not utilise the rest."
In Ryan's opinion, a good CS team will check in regularly with customers to find out the following: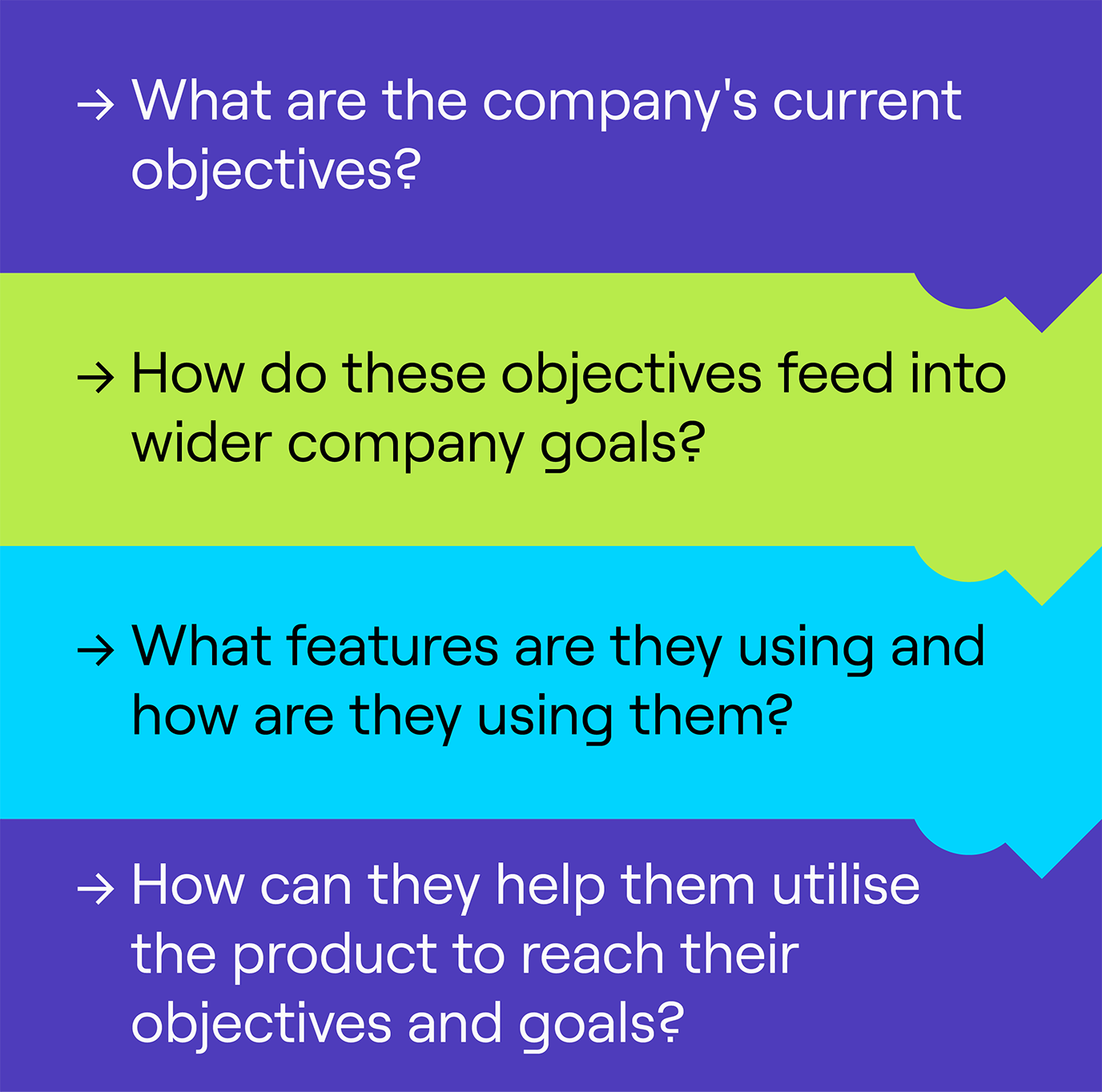 "Making suggestions like 'what if you did things this way, as then that could work better for a, b and c.'  Help the customer to innovate."
CS should also pass on this product knowledge to the sales team, especially SDRs. It will improve sales conversations a great deal!
4 – Highlight the wins
It's easy to miss some of the wins (big or small!) when you're busy at work.
But customer success can help to highlight some of these wins to customers, further cementing the value of a product in their eyes.
Ryan said:
"If you see stats showing the impact working with you has had, share it."
"This is what you looked like before, and this is what you look like now! This could be anything like:"
'Hey, check it out. We've saved you X many hours this month.'
'Look, you made ten more sales this week.'
"You don't want your customers losing sight of why they're paying to work with you. Especially if you're exceeding expectations."
If a customer is happy or doing well, Ryan suggests proposing new expanded goals.
"What were the goals they had at the start, where are they in relation to that now, and does that need to change?"
'Okay, we got 2X this month. Shall we try for 3X next month?'
It shows customer success is being proactive in trying to help clients grow and improve.
5 – Act as a customer feedback loop
The customer success team is in a prime position to monitor what customers think about the product.
In their day-to-day, they learn about:
What type of customer finds the most success using the product?
Which customers are more likely to stay long-term?
Which customers tend to expand their deal sizes?
Why is all this important?
Well, if there are trends that lead to better customers, sales can use this information to target future customers better.
The more sales understand their ICP, the better they can tailor and target their outreach. This will reduce time wastage and maximise revenue.
The key takeaway:
It's essential for sales and CS to have regular check-ins and share ICP trends.
6 – Generate testimonials, reviews, referrals and case studies
It's a golden rule of business:
Happy customers are more likely to give you positive feedback!
If CS is talking to customers regularly, asking them about their plans and results, then (hopefully!) they're going to hear some positive stories.
Ryan said:
"I'd want customer success to say, 'oh hey, that sounds exciting – would you be happy to share that story in a case study for us?' Or at least ask them to leave us a positive review somewhere."
"They could even be asking them, 'who else do you know like you guys who aren't using us yet?'  Boom, there's a referral!"
What customer success metrics do sales care about?
How can sales measure the success of the CS team for their objectives?
Well, some of these are pretty obvious, for example, renewals.
If a customer chooses to continue using your product and extends their contract, chances are they're getting value from the product. If customers are successful, then customer success has definitely done its job!
Another obvious one is if a company opts to expand their deal sizes. Often, companies will 'test the waters' by buying a limited number of seats or licences at the start.
If CS has helped with enablement and the customer is satisfied with the product, they might buy more seats or licenses.
Another scenario is if CS tells the customer about all the available features/services and how they apply to the company's objectives. At this point, the customer might buy some add-ons or expand their contract.
Ryan said:
"I'd be looking at the revenue that comes from that account after the first transaction. That's a good indication."
"What's their lifetime value? Have they upgraded their packages? How many positive case studies are we getting through to use for outbound?" 
"Are we getting lots of customer advocates? Have we got decision-makers who come back after switching companies?"
Sales and customer success: the last word
When answering the question 'what do sales want from customer success?', Ryan said:
"It needs to be about teamwork. You can't put everything on the customer success team. I like to view alignment as a partnership."
"It's not a case of 'I've passed this customer onto you, they're not my problem anymore, they're yours'."
"Instead, sales need to follow along in the process, working together. When you do that, everything becomes a lot easier."